Buzzy Rocket – Founder Spotlight: LinkUnite
Meet LinkUnite. LinkUnite is an invite-only women's retreat and digital marketing forum that connects women leaders in executive roles to ignite impact-driven camaraderie and forge empowering connections within the industry. We had the opportunity to speak with their Founder/CEO, Amanda Farris and their President/CSO, Sara Malo to learn more about their journey, their passions and why Amanda's LinkedIn profile includes a chess set. Would you like to be considered for their invite only event? Fill out this form now, you don't want to miss this networking event.
How did you get here? What's your story? 
Amanda: I have been in MarTech (Marketing Technology) for about 10 years. I've been in almost every role from VP of Business Development to Chief Strategy Officer. LinkUnite was born out of an absolute need in the performance marketing space for representation for women. Since then, we've expanded to include general marketing, targeting women at the director level and higher.
We've spent a lot of time networking, building our tribe. As a result, there has been a natural evolution of LinkUnite. From phone calls and trade shows, to relationships with brands, and all types of activities, you naturally start to develop friendships and relationships with these people. You care about them more than just an industry professional and you want to see them thrive. So that's the backstory of how we got into what we're doing with LinkUnite. Sara and I met 10 years ago in the performance marketing space when I was a customer of hers, buying sponsorships for shows that she was running. Over time we got to know each other and together we found new avenues for us to explore. 
Sara: I am a veteran marketer with 22 years experience in digital marketing and the marketing events industry. Through this time, I have been the secret sauce at many of our Industry Events (Affiliate Summit, AGS and MailCon, currently Lead Generation World, Contact.io and the AFFY Expo.) 
I believe in self branding and staying true to yourself. Amanda and I are who we are – which is loyal, genuine and country women who would rather be in flip-flops or slippers over heels any day of the week. We are master networkers and consider the Digital Marketing Industry our second family. 
What is Your favorite beverage?
Amanda: Old Fashioned
Sara: Ice cold Corona with lime
What problem are you trying to solve?
Amanda: When we started in the industry it was not only the time of booth babes, but when account executives and managers would man the booth and work the shows. Our industry has such a small percentage of women in it – I believe it is only 6%. Our idea was that we are better as a tribe vs siloed. The collective mind accelerates everyone's careers. What if we band together, bring together people at the director level and up, people who already have networks and have been in the industry for years? What if we could bring these established networks together to grow quickly? Similar to how men have done it for years. The answer was clear, we have to do this.
At the end of the event we made a Rolodex of everyone's photo, cell phone numbers, emails, favorite quotes and then sent them to all of the women. Here is your new network. Anytime you have a question, family related or business related or work life balance related, whatever it is, this is your new tribe, and we're just going to grow it from there.
Sara: We may refer to each other as sisters but we're not hard core feminists. We're not anti-men. As a matter of fact, some of the men in the space were the first people to support LinkUnite and actually partner with us. We are trying to bring women together.
Amanda: Men in our space can be funny. Their egos can be so large they can't grasp we aren't sitting around talking about them during the event. Instead, at the event, women are on their laptops setting up campaigns by the pool with a margarita at their side. That is the kind of business we are in and you can tell why they have succeeded in business as they are a bunch of type A extroverts. You just put them together and let them run with it and make it happen. We set the threshold for a certain career level because these women are typically in similar personal situations like going through IVF, trying to figure out how to get their kids back in school after COVID, etc. We empower them to network amongst themselves, find the support they need with other women in a similar career path that really understand where you are in your life and help you grow and sustain. We also have a mentorship side to support women getting out of college and learn more about the industry.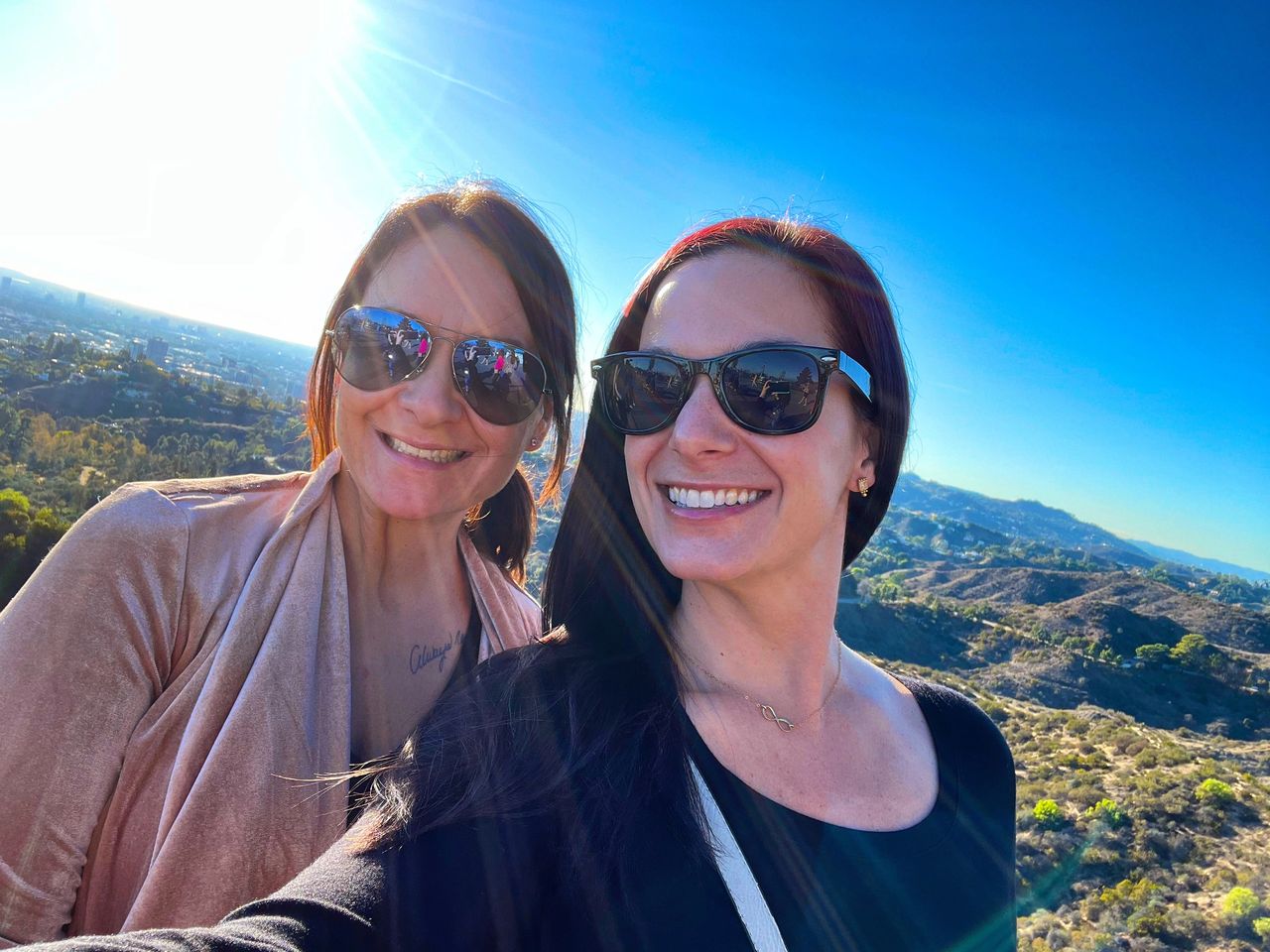 Did you look for outside investors for funding?
Amanda: No. We have partners that provide us with the funding we need. We invite any companies that want to support our initiative and understand what we are trying to do to be involved. They can contribute funds that pay for activities, food and everything that surrounds the Event itself. This allows us to make it free to attend and participate.
What is your vision?
Sara: We're all different. We have different challenges. We all are juggling what is expected or required of us on a daily basis. That could include being a mom, being a single mom, traveling for work, pursuing a full time career, etc. 
It is important and cool to pull together these women and see them relate. You could be standing with them discussing their kids. For example, one woman shares "I have two teenagers, my oldest daughter is actually finishing driver's ed class today." Then another woman replies, "Oh my God, you gotta get this tracking app for when she starts driving." The event is so laid back and welcoming. I never thought I'd be at an event where I would be in a bathing suit and not feel uncomfortable. 
Amanda: The feedback we received from attendees after the event was really powerful. We were tearing up from their meaningful words. They said it was the reset they needed, that there is nothing like this for them in our space. 
There are Masters clubs, retreats, professional development sessions, golf tournaments – women don't have anything like that in our space. We knew we deserved something like this and we knew we had to make it happen.
How did you learn to embrace risk-taking? 
Sara: I would say Amanda is more of a risk-taker than I am. She has taught me to let things evolve. Four years ago we started compiling a list of incredible women we met, women who were doing great things in the industry and it evolved naturally.
Amanda: I am definitely more of a risk-taker. I don't focus on the risk. I know if I've done my best work and haven't cut corners, then I don't even question if it is going to work. It is going to work! 
What are your passions outside of work?
Sara: I'm a big  fan of this question. I wrote an article for Feedfront, a magazine Affiliate Summit used to publish about the importance of work life balance. Even though I am a single mom and work full time, I love to travel with my kids to show them new cultures, run and hike. I get up at 4:30am in the morning and go with my dogs to see the sunrise before my kids get out of bed. I also volunteer for several non-profits in my small town that provide scholarships to graduating students and funding to the athletic programs.
What advice would you give to women in business? 
Amanda: I think it is important to be involved and be willing to support each other. Even if it is simply lending a friendly ear. I'm always willing to listen, offer feedback if it is desired or bounce ideas off each other. I think that is a big piece of what is missing in the marketing and total community. It is always good to have people who think like you that you can feed ideas off of and understand you. As a company, even though we aren't seeking funding, we're always open to partners who have the same kind of ideology and altruistic vision. We want the best people involved. I think when you follow your passion, do the right thing, the money will follow. 
I know that sounds very altruistic, but it has always been the case, at least in my career, that when you love what you do, and you love the people you work with, and you look out for one another that money follows and so does success. 
I'd also say to women in business not to fear their competition. There's enough pie for everybody to go around. There's no reason to be in competition. If my platform doesn't fit something that you're doing,  I'm more than happy to recommend my competition. Collective success is success in the future for everyone. Then it comes full circle, you are forming relationships, supporting each other.
Do you have pets?
Sara: Yes, I have two dogs, London and Luna. 
Amanda: Yes, I have two dogs, Pixel and Widget, if you can't tell I've worked in tech long enough. 
Have you had to pivot since your initial idea?
Amanda: The idea for LinkUnite was the event. We were literally about to put the deposit down on the venue the week before COVID shut the world down. This was obviously a big issue. We had already started doing outreach. We had to stay in touch with people while we tried to navigate 2020. We finally saw trade shows returning and attendance going back up and we followed up with everyone we had engaged. We knew people were hungry to get out and this was the time to strike. The interest was astronomical. Everyone showed up. We may have to cap the second event to keep it intimate as there is still a lot of interest. Women heard the call and they wanted to be a part of it.